Sebastian Valle is ranked as the Phillies #6 prospect by Baseball America, according to rankings released last off-season. Currently the starting catcher for the Lakewood BlueClaws, the 19-year-old Valle is emerging as a potential team leader as he handles his pitching staff extremely well and shows his offensive talents regularly. With 44 RBI since the start of May and 6 of his 9 homers in June, Valle was somewhat of a slow offensive starter this season. Coaches and pitchers speak highly of the Mexico native Valle, giving him credit for plenty of the success the Lakewood pitching staff has achieved this season. Valle himself gives props to his managers for helping him become a real professional catcher. Valle has spent time over the past couple seasons playing for former big league catchers Dusty Wathan and Mark Parent in the Phillies' system.
I had the opportunity to speak with Sebastian last week. As I often find when I speak to some of the younger foreign-born players, language obstacles are tough. So, I kept the questions simple and forgave Sebastian's inability to elaborate much. That interview lies ahead.
You've really stepped up your offensive production a lot lately. I just wanted to get some comments from you on what the difference has been and how you've gotten hot lately.
I have just been trying to hit the ball hard and I've been working everyday with my hitting coach (Greg) Legg. I am working and trying harder all the time.
What things specifically have you been focusing on improving when you work Greg Legg?
He says I need to work on hitting the outside pitches and that I try to pull the ball too much, so I focus on hitting the other way. It has helped.
Baseball America has you ranked pretty highly as a prospect in the Phillies system. How does that sort of recognition effect your outlook or how you approach the game?
I don't think about it. I just play baseball. I don't really think nothing (of it). I am excited, but I play hard every day no matter what. Really, I'm very happy about it, but I don't think (about it).
How does Lakewood compare to other places you've played?
I don't know...it's different. In Mexico I played with my family in my city, but I like the fans and the ballpark here. Lakewood is great.
Were you always a catcher during your playing days before you turned pro?
No, I also played third base, pitcher...but I like catching the best.
Who are some of your all-time favorite baseball players?
I like Ivan Rodriguez, Manny Ramirez, Leandro Castro (his teammate sitting nearby)...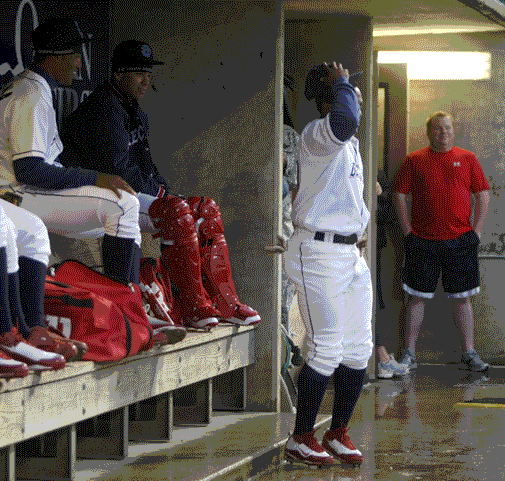 Valle (center) & Domingo Santana cheer on Castro's rain dance moves


What do you think about your teammate Leandro Castro's dancing skills?
(Laughter) It's good. He's pretty good.
__________________________
Reminder- today is PhoulBallz Phillies Wednesday on The Shore Sports Report. Tune in on Shore Sports 1310 or WOBM AM 1160 in NJ to hear me talking baseball with Mike & Joe around 5:05pm. You can also listen live online by clicking
here
.
Follow PhoulBallz.com on Twitter
HERE
.