Many of you might recall last year, when the Lakewood BlueClaws' rain delay dance troop made their internet debut. If not, you can refresh your memory by clicking
here
. During a rain delay last May, many Phillies prospects including Jon Velasquez, Travis D'Arnaud, Moose Mattair, Jacob Diekman and Zach Collier took the field, to entertain the fans who were in attendance, and performed the Cha Cha Slide. This event, as well as other similar occurrences, have given the BlueClaws a reputation for being fun-loving and for caring about their fans.
This past Friday's opening night saw familiar rain delay action as BlueClaws left fielder Leandro Castro took to getting things poppin', somewhat, and entertained his teammates in the dugout during the down time. Sebastian Valle and Domingo Santana can be seen cheering Castro on from the bench.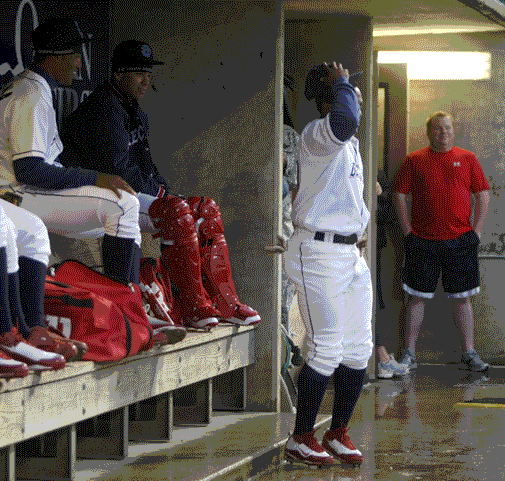 Through 11 games this season, the 20-year-old Castro is hitting .317 with 2 doubles, 2 triples, 7 RBI and 3 steals. Castro has 4 multi-hit games already this season. Castro, a native of the Dominican Republic, was signed by the Phillies as an amateur free agent in 2007 and is ranked as the 25th best prospect in the system by Baseball America.

----------------------------------
Check back with PhoulBallz.com regularly for all your local coverage and exclusive player interviews.
A major shout out goes out to the peachy one,
Mister Tug
, for image assistance.
Follow PhoulBallz.com on Twitter
HERE
.